A Simple Approach for Bubble Modeling from Multiphase-Fluid Simulation
University of North Carolina at Chapel Hill
Tsinghua University, China
Swansea University, UK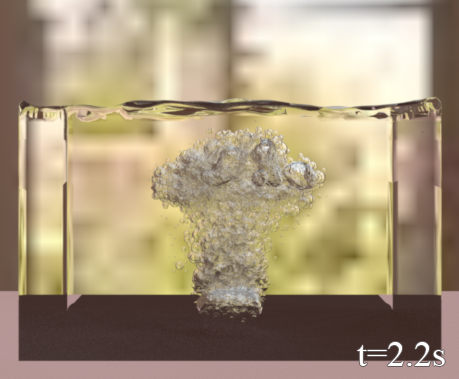 ---
ABSTRACT
We present a novel and exible bubble modelling technique for multi-fluid simulations using a volume-fraction representation. By combining the volume fraction data obtained from a primary multi-fluid simulation with a simple and efficient secondary bubble simulation, a range of real-world bubble phenomena are captured with a high degree of physical realism, including large bubble deformation, sub-grid bubble motion, bubble stacking over the liquid surface, bubble volume changing and dissolving etc. Without any change required to the primary multi-fluid simulator, the proposed bubble modelling approach is applicable to any multi-fluid simulator based on the volume fraction representation.
---
PUBLICATION
A Simple Approach for Bubble Modeling from Multiphase-Fluid Simulation
Visual Computer, April 2015.
---
DEMO VIDEOS