A Viscous Paint Model for Interactive Applications
Abstract
We present a novel viscous fluid model for use in real-time simulation applications, such as interactive painting systems, based on the well-known Stokes' equations for viscous flow. Our method is perhaps the first unconditionally stable numerical method that treats viscous fluid with a free surface boundary. We have integrated our fluid model with a prototype painting system, which demonstrates the model's effectiveness in animating viscous fluid flow and capturing a thick, impasto-like style of painting.
Paper
Video
Images

Figure: An overview of the paint system data flow using the proposed fluid model.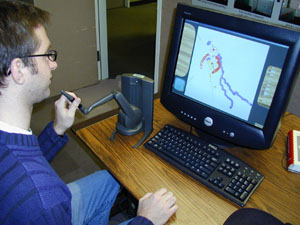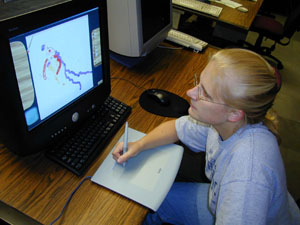 Figure: The physical setup of the system using either Phantom haptic interface or tablet interface.



| | |
| --- | --- |
| | |
| | |
| | |
| | |
Some Related Websites
Versatile Brushes
- UNC-Chapel Hill
IMPaSTo
- UNC-Chapel Hill
dAb: Interactive Haptic Painting
- UNC-Chapel Hill
Computer Generated Watercolor
- University of Washington
Virtual Chinese Brush
- SSRI

Chinese Painting System
- National Taiwan University